Prosci's ADKAR Model
ADKAR is an acronym that represents the five milestones an individual must achieve for change to be successful; awareness, desire, knowledge, ability and reinforcement.

Developed by Jeff Hyatt of Prosci. Hyatt says organizational change is made up of the changes made by the individuals who make it up.

When each person reliably moves through the ADKAR stages the organization can be said to have changed.
"a goal-oriented change management model that
guides individual and organizational change"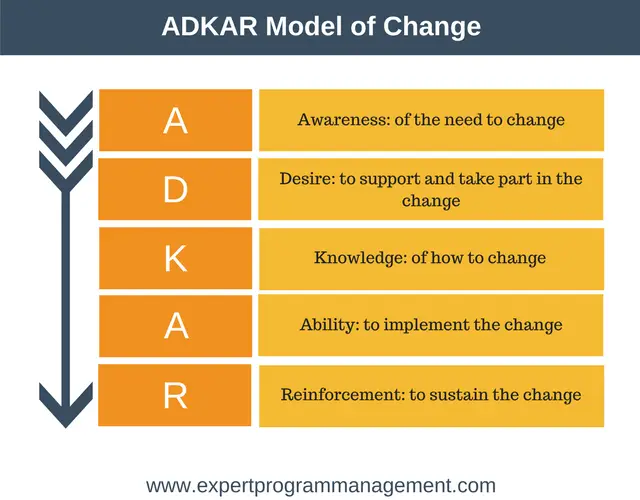 ADKAR is an acronym, that stands for:
Awareness: A general understands of the change. What is intended, when and why?
Desire: The message is framed and activities are undertaken to tease out what's in it for them.
Knowledge: Training, education is provided enabling people to adopt new ways of working
Ability: skill levels are enhanced and embedded with coaching, further education, and training
Reinforcement: systems and processes are adjusted in line with the new ways of working to help the change stick. Measurements are implemented and monitored to provide feedback to the staff and management.